Topic: Halloween
Friends, Romans, Countrymen:
Firstly, I would like to apologize for the lack of video bloggage: I planned on making a sweet sweet vid for y'all out there BUT I'm too sleepy. Going to sleep at 5 am two days in a row (Halloweekend) and then schooling after a very short Sunday is just not conducive to witty vlogs. I'M SO SORRY. Forgive me? I'd offer material goods as a form of repentance and blatant request for forgiveness but instead I'll just pretend like I did. :B To make up for no video, I will instead be barraging you with pictures from the past couple weeks, just to prove that I am a real person that occasionally leaves my basement. (I live in the basement, but I'm not just a creepy basement-dweller. I pay rent!) ((Okay, my parents pay rent…))
Oktober ist vorbei und jetzt vermisse ich es schon. The past month flew by, and now there are only 6 or so weeks left of school. Things are rapidly piling up (tests, papers, applications oh my!) My brain is slowly turning to mush: between learning and Gilmore Girls marathons in my living room, it's a wonder I have time to breathe! (I know, right?!) Luckily, knock on wood and woodland creatures, classes are going a-okay! I've gotten B+s on Spanish tests, feeling all right about Math and German midterms, and have a B average in Physics. (You probz don't care about my current GPA) Unfortunately the tests never end, I swear every two weeks I'm being forced to prove my knowledge one way or the other…It's very tiring. I can only imagine how hectic it will be after Thanksgiving break but que sera, sera. QUE SERA SERA I SAY! Yeah, that's Latin. Add some accents and its Spanish. …In no way is it German.
Here's a rundown of Oktober:
– Homecoming, Midterms, visit from my cousin, trips to Saturday Market, 23rd Ave, and Halloweekend,!!
And here are some of the sweet places I've been hanging out lately:
The things you find in Portland..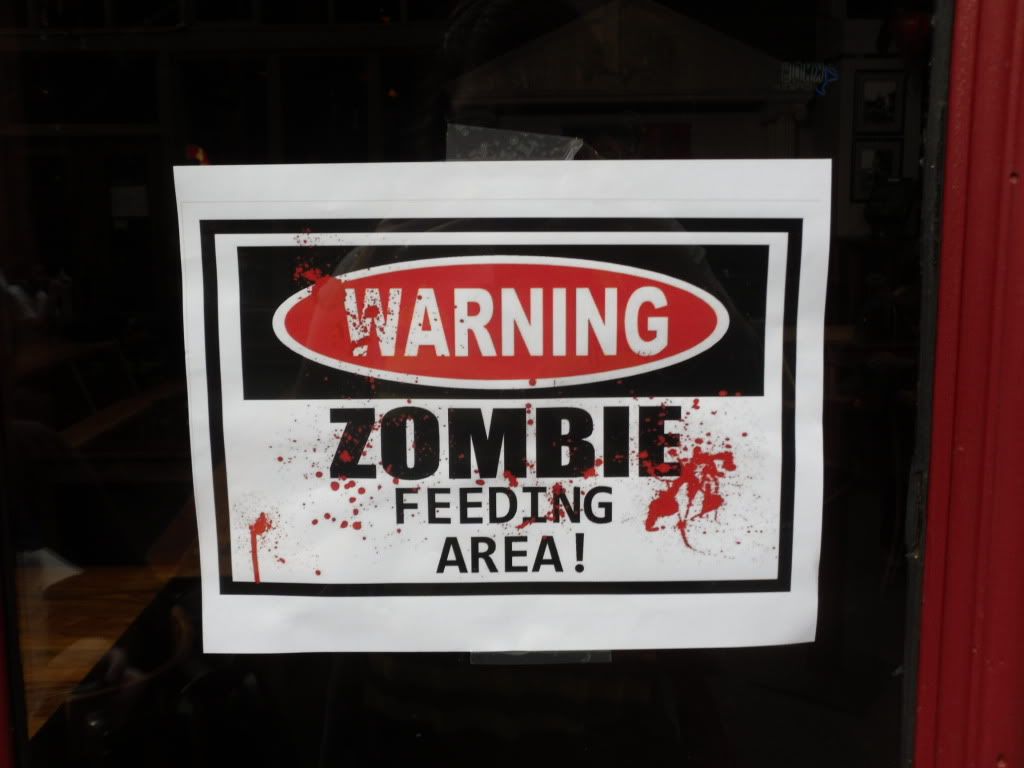 Taqueria La Estacion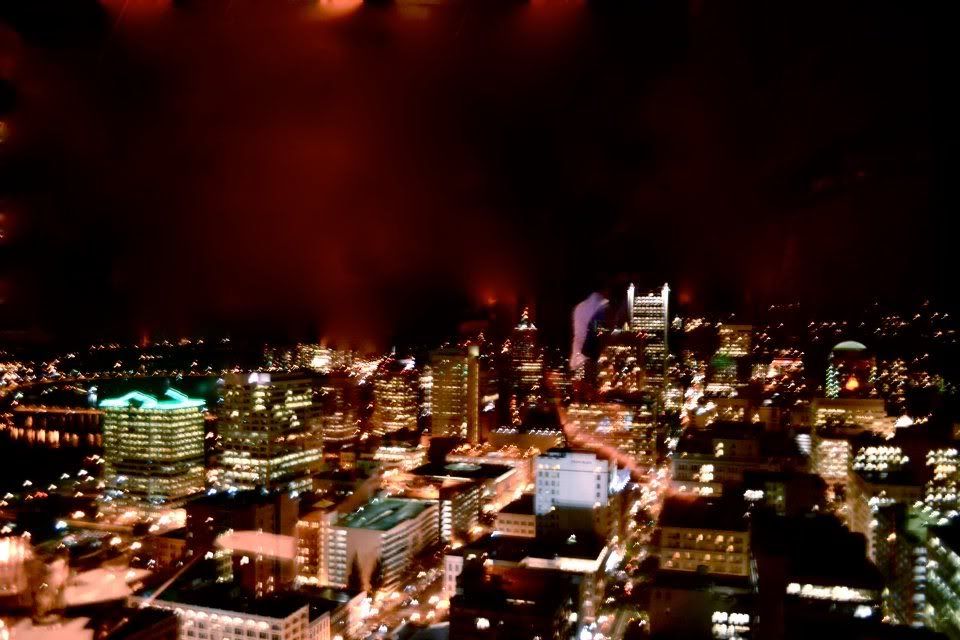 Portland is beautiful at night.

So are we, heheheh
Now, let me tell you about HALLWEEKEND. I only refer to Halloween as HALLOWEEKEND because Halloween isn't just one day. No. It's an entire weekend. Sometimes, its Halloweek! LC put on lots of Halloweeny activities this year, which was rad. My housemates and I put up spooky cobwebs, carved pumpkins, bought a million pieces of candy and played with blacklights. We were ready.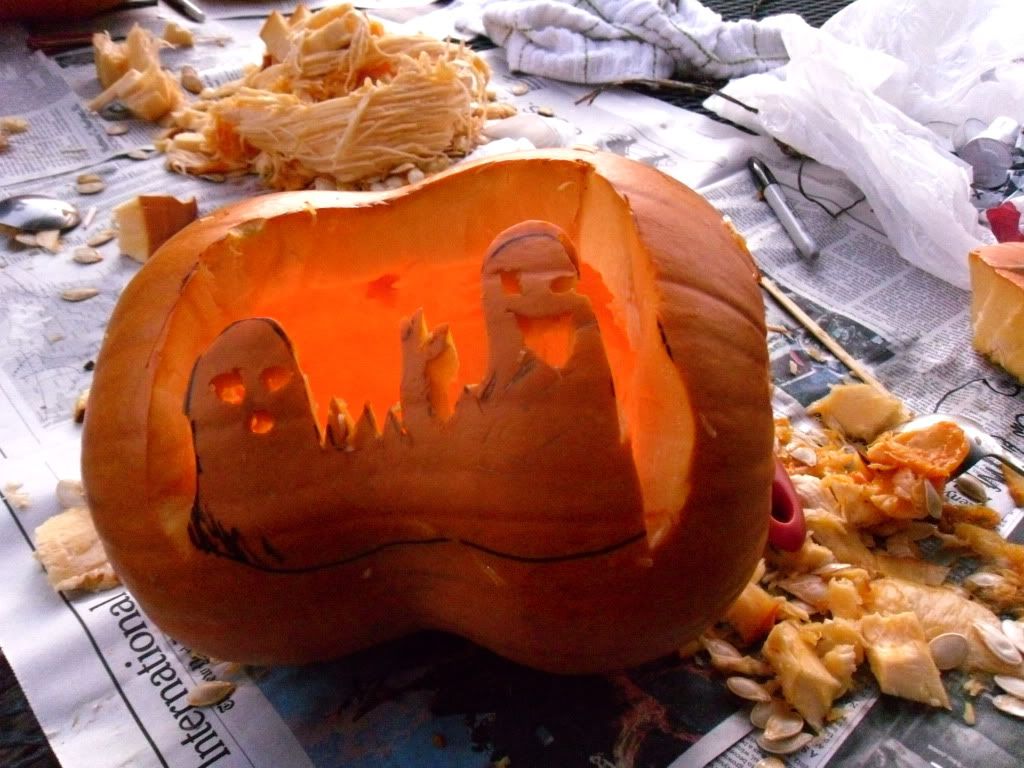 My lil' guy
This weekend I only went to the dance LC threw but it was grand. They had professional photographers set up! So, naturally my pals and I took complete advantage of this opportunity. We may or may not have monopolized the photobooth but, hey, it was 1 am and we were determined to make fools of ourselves! That was Friday. Saturday I went out with my pals to an Irish pub in Lake O, in costume of course. We then migrated to Tryon Creek Grill, which is a bar/grill just down the street from LC. We closed it down. Aww yeahuh. (I can talk about alcohol, I'm 21. Don't judge.) Monday, actual Halloween, some students and staff still dressed for the occasion which sent my little heart a flutter. I truly love costuming, and take every chance I have to put on something silly or theatrical. If I could just host costume parties forever, I would. My favorite costumes I saw were: cookie monster, Shakespeare, a milk box, a student dressed like my math professor and a fellow dressed as Sacagawea. Lawl. Joy was abound.

Before the dance!

At ze dance
Round two:

Lastly:

What was I for Halloween? Well…I was 3 things. Friday: Ursula the Seawitch from the Little Mermaid, Saturday: Zombie 50s Housewife and Monday: Viking hipster.
Now it's November and the air is cold, the fogs rolling in and Thanksgiving is 3 weeks away…HURRAH.
Again, if you have questions, comments, want me to blabber on about something in particular, just shoot me an e-mail at:
knh@lclark.edu
Also, if curiosity strikes, you can check out my travel blog-turned normal everyday blog here, but DISCLAIMER: It is in no way affiliated with Lewis and Clark College, so don't hold it against them. It's just my ramblings, but, if I make you chuckle, check it out. (I like tumblr more than WordPress, shhhh.)
Happy Tuesday!